The structure of the health system in Nepal exists at the federal level, provincial level, and local level.
According to the new constitution Federal Democratic Republic of Nepal shall be divided into three main level of structure : Federal, Provincial and Local.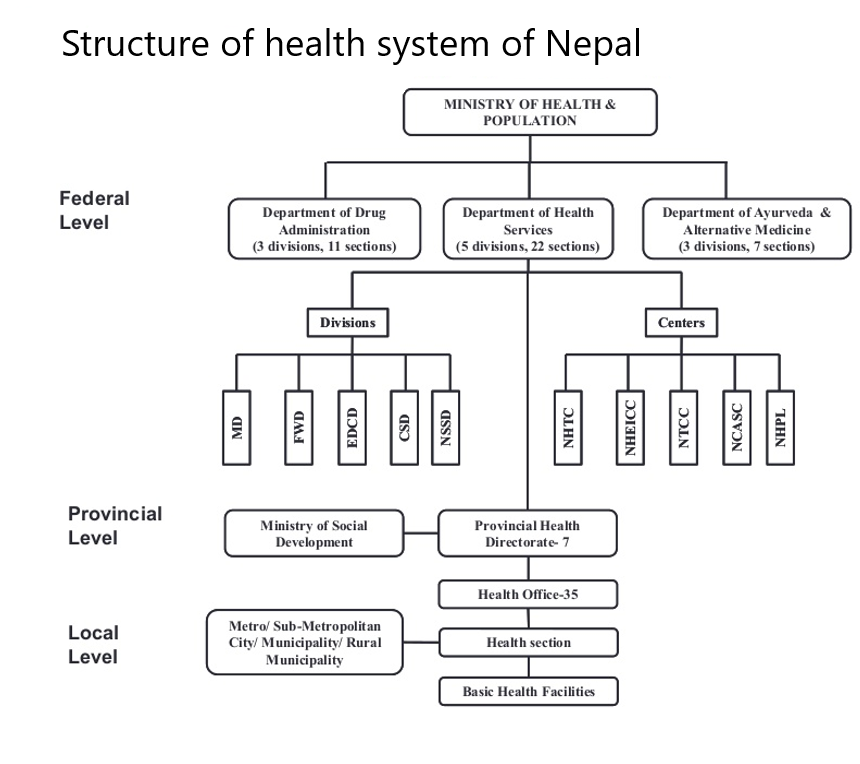 Structures at Federal Level
• Health care system of Nepal is managed by Ministry of Health (MoH) is responsible for making necessary arrangements and formulation of policies for effective delivery of : – Curative Services – Disease Prevention – Health Promotion – Establishment of Primary Health Care System
Organogram of Ministry of Health and Population of Nepal
Structures in federal health system
Ministry of Health and Population (1)
Departments (3)
Divisions and centers (5\5)
Councils (6)
Central Hospital under MOHP (14)
Cental Hospital under other ministries
Academia and Institutions
External Development Partners ( unilateral, Bilateral, Multilateral)
Private Hospitals and Medical colleges
Divisions of MOHP
Policy Planning and Monitoring Division
Health Coordination Division
Quality assurance and Population Division
Population and Management Division
Administrative Division
Sections under Divisions
Policy Planning and Monitoring Division(4sections)
Policy and Planning Section
Monitoring and Evaluation Section
Curative service, Education and Research Section
Ayurveda and Alternative Medicine Section
Health Coordination Division( 4 sections )
Provincial and Local Health Coordination Section
Multisectoral -Coordination Section
Development Support and Coordination Section
Public Information Coordination Section
Quality standard and Regulatory Division ( 2 sections)
Quality standard and Regulation Section
Information, Communication and Technology section
Population Management and Information Division ( 2 sections)
Population Management and Information Section
Gender equality and Social Inclusion Section
Administrative Division ( 4 sections)
Personal Administrative section
Financial Administrative section
Legal Section
Internal Administration Section
Overview of organization of health system at Provincial Level
Ministry of Social Development-7
Provincial Health Directorate-7
Provincial Logistics Management Centres-7
Provincial health training centre-7
Provincial Reference Laboratory-7
Health Offices -77
Provincial Hospitals
Private Hospitals/Academia/ NGOs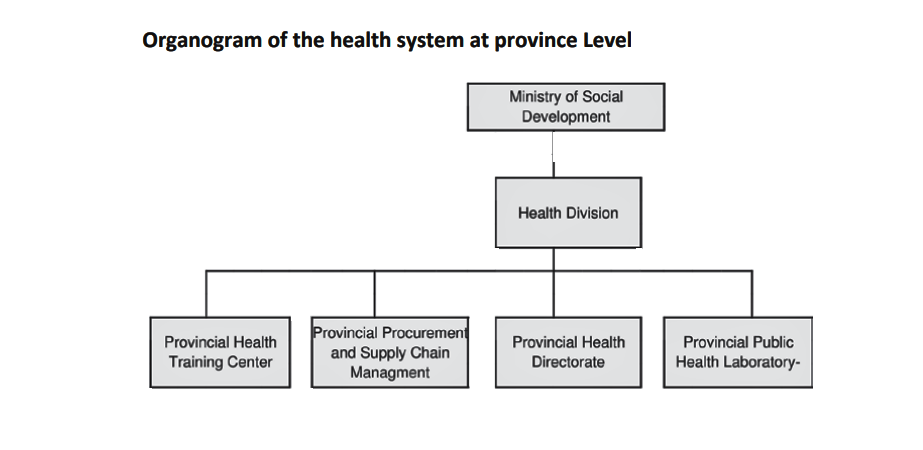 Health system in Local Government
Primary Hospitals
Urban Health Centre
Health Post ( Total no 3808)
PHC- ORC (Total no 11974)
EPI-ORC (15835)
FCHV (Total Number of FCHV is 52420)
CBO/Pharmacies/Local NGOS/clubs
Adhikari is a founder of publichealthglobe.com and a public health enthusiast aiming to create an impact on the community all across the globe. A true believer of Prevention is better than cure.