Its a salt awareness week 8-14 March 2021. And the Theme for the salt Awareness week is " More Flavor, Less Salt "
According to World Health Organizations, Too much salt consumption can increase Blood Pressure which is a leading cause of major cardiovascular diseases and stroke.
WHO Recommends
WHO Recommends to consume salt less than 5 gram per day .( 1 teaspon= 5 grams ). Salt intake of less than 5 grams per day for adults helps to reduce blood pressure and risk of cardiovascular disease, stroke and coronary heart attack. The principal benefit of lowering salt intake is a corresponding reduction in high blood pressure.
All salt that is consumed should be iodized or "fortified" with iodine, which is essential for healthy brain development in the fetus and young child and optimizing people's mental function in general.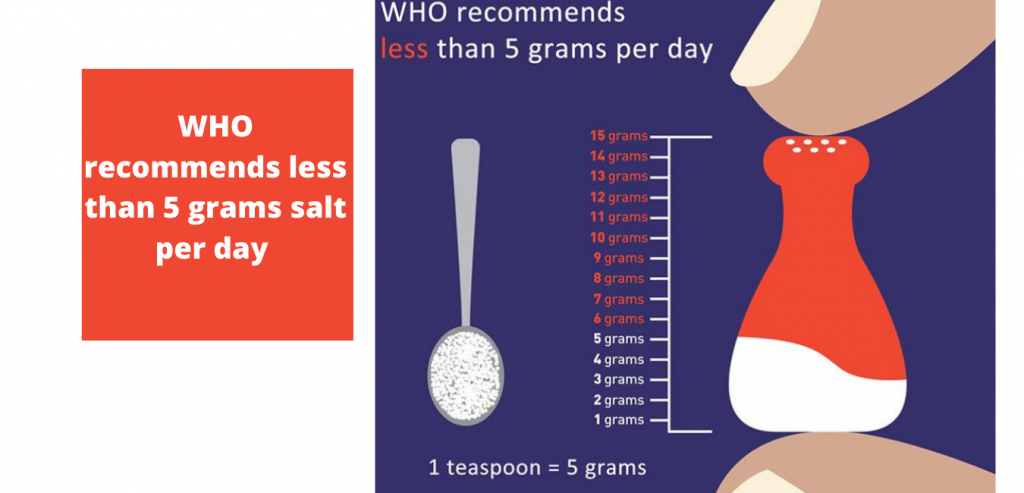 Facts about Salt Consumption from WHO
Most people consume too much salt—on average 9–12 grams per day, or around twice the recommended maximum level of intake.
An estimated 2.5 million deaths could be prevented each year if global salt consumption were reduced to the recommended level.
How to reduce Salt in diets
al the consumption at home can be reduced by:
not adding salt during the preparation of food;
not having a salt shaker on the table;
limiting the consumption of salty snacks;
choosing products with lower sodium content.
Other local practical actions to reduce salt intake include:
integrating salt reduction into the training curriculum of food handlers;
removing salt shakers and soy sauce from tables in restaurants; Introducing a product or shelf labels making it clear that certain products are high in sodium;
providing targeted dietary advice to people visiting health facilities;
advocating for people to limit their intake of products high in salt and advocating that they reduce the amount of salt used for cooking; and
educating children and providing a supportive environment for children so that they start early with adopting low salt diets.
Adhikari is a founder of publichealthglobe.com and a public health enthusiast aiming to create an impact on the community all across the globe. A true believer of Prevention is better than cure.